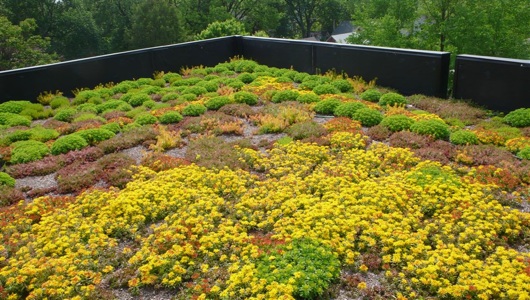 Development of urban areas often leads to degradation of natural green space and wildlife habitat and open space is being lost at an alarming rate. The addition of a green roof to an unused area on a building can help preserve the green space and is beneficial to the surrounding environment. There are also social, economic and environmental benefits to green roofs.
During heavy rainfalls green roof slows down the flow of water by retaining up to 75% of the rain water avoiding problems such as water pollution caused when rain water runoff from galvanize and concrete rooftops.
Plants naturally cool their surrounding environments while dark roofs can help bring down the overall temperature, therefore more green roofs means a cooler environment.
Some of the most desirable neighborhoods are near green park space. Green roofs are visually stimulating and can make great areas for recreation and pleasure. Converting roof space into green park space can provide that desirable feeling and can also increase the value of a property by providing a valuable building asset that makes the building more marketable and saleable.
Added benefits of green roofs are that they improve the air quality by absorbing and converting carbon dioxide to oxygen and the soil and plants are an effective sound insulator.
Green roofs are a very innovative technology and provide many benefits to the environment. They are now being accepted as an important part of sustainable construction and climatic change adaptation, which is very important. Today many new developments are having green roofs installed as part of their designs.