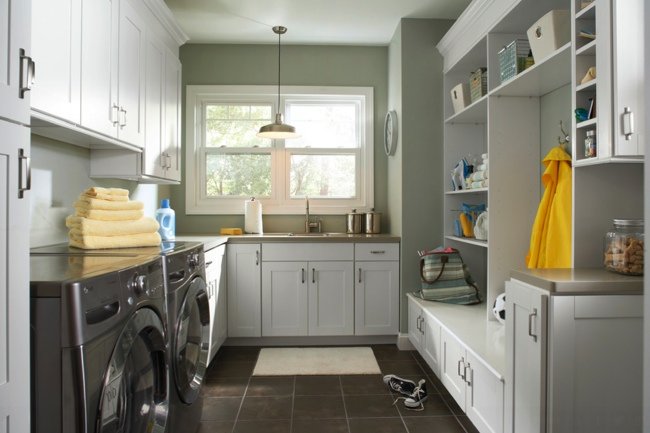 Laundry rooms used to be hidden away in the basement, washer and dryer side by side on concrete floors. These days, they're moving upstairs and going upscale. From walk-in closets to craft rooms, laundry machines are finding new, brighter and inspiring spaces in the house. Some look almost like kitchens, with high-end cabinetry and countertops. From large and luxurious to compact and convenient, the options seem limitless. Here are some common trends:
Size
Modern laundry rooms come in all sizes. In some homes, the laundry area simply consists of a stacked washer and dryer behind bi-fold doors. In more opulent digs, the laundry room sometimes shares space in a room that accommodates a homeowner's hobby. Use the space you have, if the area is small include first and foremost the essentials a washer and if possible a dryer. If it is large enough feel free to decorate and design based on your personal style. A laundry room isn't a place people are going to hang out, but that doesn't mean it can't have style.
Location
Some homeowners find it convenient to have a laundry area on an upper floor rather than in the basement, so they don't have to lug linens, towels or clothes up and down stairs. In some high-end homes, the laundry room might turn up in the master bedroom's walk-in closet, steps from the en suite. It's simple enough to put a drain on the floor during construction. That way, there is a lot less damage if there is a water leak. In smaller properties the laundry can be shared with either the kitchen or bathroom.
Innovation
The old school laundry chute has been around for decades but has never enjoyed widespread adoption. For some families, it's the height of convenience. Gone is the need to lug heavy laundry baskets down stairs. It's a good idea if you have the space to incorporate it in your design. Other good idea is the addition of a storage island to keep clothing well-organized and setting up an ironing system if space allows.
Noise
The type of flooring where the washer sits is important. A concrete base is best because it can absorb the vibrations a working machine generates. Try to distribute laundry loads, as an off-balance washer can make the whole house shake. Ninety per cent of noise — and machine vibration — problems can be traced back to an incorrect installation. Some washers have shock absorbers to absorb some of the vibration. Others are cradled inside a cabinet, so movement is not transmitted to the frame of the machine.
Ergonomics
Laundry rooms are starting to emulate kitchen design, with a utility sink and countertops for working space, combined with upper and lower cabinets for the storage of detergent and other cleaning supplies. Machines are now being offered with doors that swing on either side. Previously, washers opened only to the left and dryers to the right on front-load machines.
Multi-function
While room for a few laundry baskets is important, increasingly, homeowners are making laundry spaces work harder. The most common pairing is with a mud room. The idea is that kids coming in from outside with dirty clothes can simply put them in the nearby hamper. A lot of women prefer their laundry "two steps" from the kitchen, where they spend more of their time. Some ladies also incorporate an indoor clothes-drying rack suspended from the ceiling.
If you need any clarification on this topic, feel free to email us at feedback@millenia.dm.