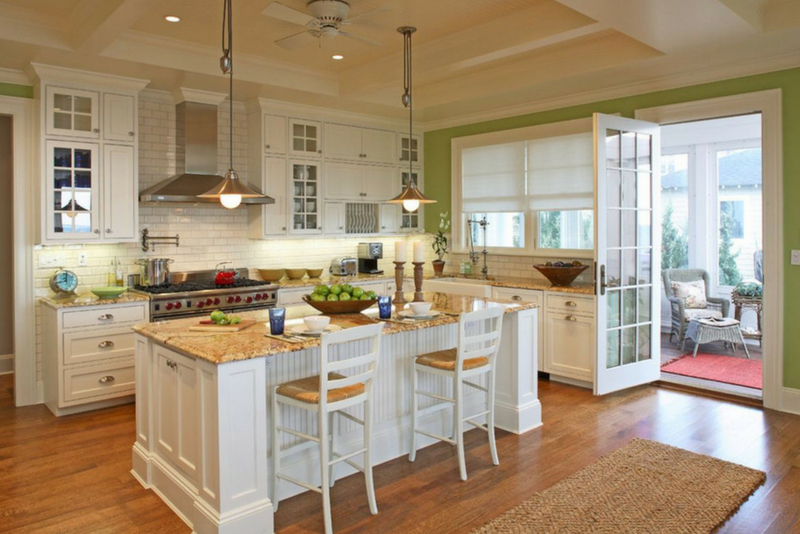 If you could only have one in your dream home, would you rather an eat-in kitchen or a formal dining room?
The option of eating in the kitchen has always held a strong appeal. An eat-in kitchen is a kitchen designed to accommodate meals and is ideal for multitasking. It provides a place for friends and family members to casually socialize and enjoy a meal, while also serving as a food preparation area. In addition, an eat-in kitchen is not limited to any particular arrangement and chairs and tables can be added and rearranged at ease.
Depending on the size of your kitchen, you have a number of choices for creating an eat-in kitchen:
Where there is not sufficient space a breakfast bar or Kitchen Island would work great with imaginative counter stools.
If there is a bit more space available consider adding a welcoming breakfast area.
For large kitchens in homes with large families including a dining table that seats a larger number of people is a good option. This provides the option of having a more formal dining area if a separate dining room is not an option.
If you desire to include an option for formal family meals or host formal social gatherings a dining room would be more beneficial than an eat-in kitchen. The typical dining room contains a table and chairs arranged along the ends of the table, with other pieces of practical storage or decorative furniture.
Décor such as flowers, vases, mirrors and photos of family or sceneries are excellent items for uplifting a dining room.  Corner tables are also great for a dining room design.  They can be used to display decorative items as well as to provide a place for visitors to rest items such as cell phones, glasses, etc. while they dine.  Cupboards to hold dining tools are both decorative and practical furniture that can be included in this space.
You do not necessarily have to make a choice between eat-in kitchen and a dining room. If the space available and your budget allows, you can have both an area for just your family to eat in a rush in the morning before going out for the day as well as for a space to spend quality time over a meal with family and for formal gatherings with both family and friends.