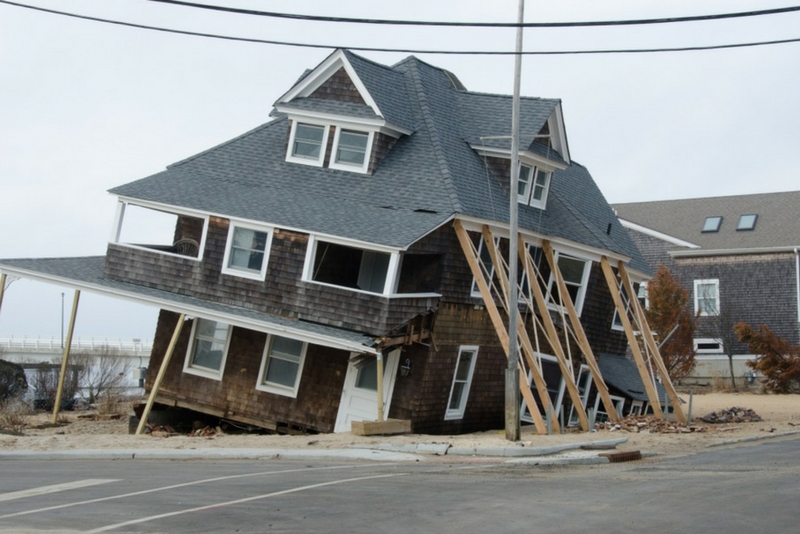 The building materials used when building affects the extent of damage sustained by infrastructure during and after natural disasters like earthquakes, hurricanes and floods.
Concrete
Reinforced concrete is one of the most practical and preferred building material in the world. Why? Because it has the ability to regulate the strength required at specific points within a structure, and it can be used at a relatively low cost.  Properly designed concrete structures will resist hurricane force winds and can be made to resist earthquakes. Compared to wooden construction, it provides superior fire resistance, and can gain strength over time.  Concrete structures can also stand against sea swells and intense waves along shore lines and floods. It is one of the most durable building materials.
Timber
Under proper conditions, wood provides excellent, lasting performance.  However, it also faces several potential threats to service life, including fungal activity due to increased levels of moisture. It is also buoyant and this makes timber structures get swept away at high water levels as in floods and sea swells. Albeit timber structures can withstand earthquakes and hurricane force winds once they are well built.
In earthquakes, timber structures have the ability to permit high levels of displacement in the structure due to its flexible joints.  These joints dampen the horizontal forces generated, while sustaining only minimal damage.  Also, since the forces acting on the structure in an earthquake are directly related to its self-weight, lighter materials like wood would be best.
Steel Frame
The steel framed structure is widely used in the construction industry due to steel's physical properties such as strength, malleability and its ability to be prefabricated. In terms of the ease of erection and overall durability of such structure, these properties make it one of the best materials for construction, but also one of the most expensive materials and methods in the industry.  Like reinforced concrete, it can be designed to withstand hurricanes, earthquakes and floods.
These materials can be utilized on their own or in combination to address the weakness of one, to fit within the budgetary allowance, or to make the structure's design more interesting.
The prevalence and impact of natural hazards means that special attention should be made in building designs and materials and in employing the right technical professional to lessen tragic loss to property and life.