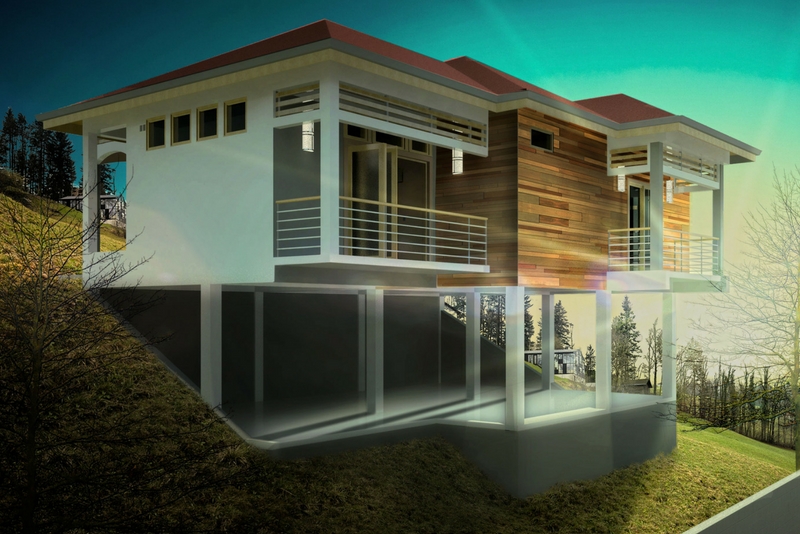 The most difficult part of moving to Dominica can be accomodation. If you are in England (or America) and you want to build your home in Dominica, in the past you could send money for relatives who would oversee the process for you (God willing).
Now, it isn't that simple. To build your home in Dominica the very first thing you will need is an architect and plans drawn up.
Today, I took a look at something that will make the whole process of creating plans easier.
Millenia LDC – the company who provide me with the properties for sale/rent on this blog – have come up with a really innovative way for you to build your home by providing pre-designed residential plans.
They have pre-designed a number of different house plans that you can purchase and then add minor modifications to, to suit your own needs.
Along with the drawn up plans you can also get a cost estimate that includes a list of everything you need. Quantity, quality, dimensions – everything – so you have a good idea of what your final costs will be.
If you have been thinking about the best way to build your home in Dominica and you don't have a particular design in mind these pre-designed plans might be great for you.
Some of the properties included in these pre-designed plans are:
Saraca – A 2-bedroom, 1.5 baths home with a large open living, dining and kitchen area. This is a single storey bungalow type property. It covers 986 sq ft of living space and 205 sq ft of covered porch. Click the image to see a larger version
Chataignier – Also a single story two bedroom plan with an ensuite master bedroom
Campeche – This is a family home plan. 3 bedrooms, walk in closet and a private deck.
Almond – Another 2-bedroom pre-designed plan but this one is on two floors. The lower level features a studio apartment so great if you are looking to rent out space
Apricot – The largest pre-designed plan I looked at out of them all. A house built on three levels and particularly good if you own land with sloped terrain. Below is a drawing of what the kitchen area will look like.
There are pre-designed plans of all shapes and sizes. You can take a look at what your finished home will look like without having to worry about actually coming up with plans yourself.
If you are looking to build your home in Dominica. You have your land and you are ready to get started click here to get in touch and I will be able to introduce you to the talented company who can show you more plans.
Things have definitely come a long way in terms of being able to buy some land and set up home in the Caribbean.