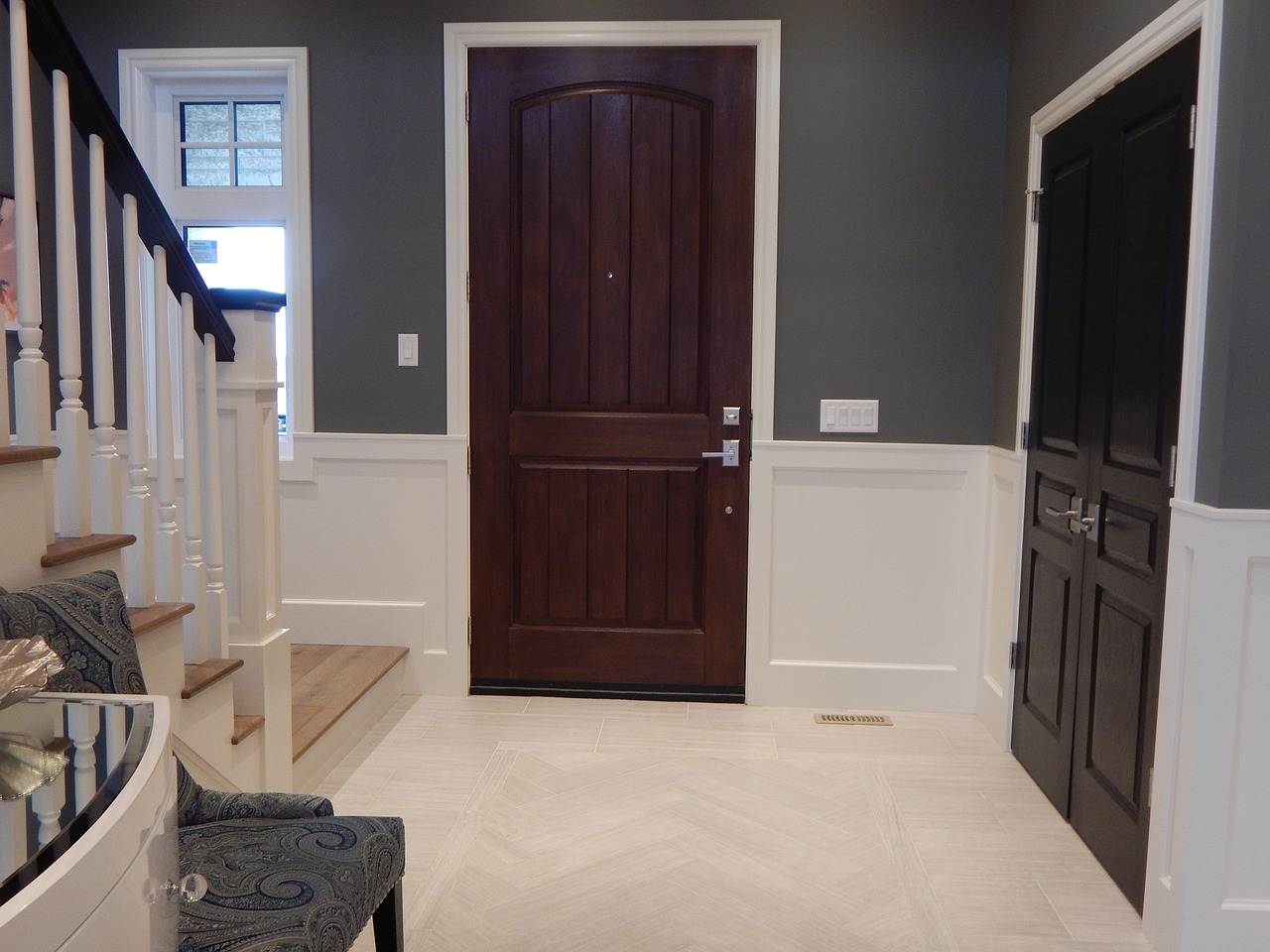 We are inside, and just entered the Foyer! Typically, it is a small hallway or open space at the main entrance of a building that acts as a reception area for visitors.  In large buildings such as cinemas, concert halls, theatres etc. it is used like a lobby where users gather before and in between events.  This architectural design element is used to welcome the guests into the house or apartment and often helps visitors orient themselves before moving into a specific room of the home.
The foyer is one area where function should take precedence over design.  To create the perfect foyer, first think of how your family uses this area.  You may use the space in a foyer for more than welcoming guests.  Depending on its size and shape, your foyer can serve either of the following multiple functions in addition to providing pleasant aesthetics.
Reception Area
Create a warm and inviting reception area for guests as well as yourself. A freestanding wood or metal coat rack provides a spot to hang jackets, coats, hats and scarves.  Some coat racks incorporate a stand for umbrellas.  Situate a console/wall table against a wall to place books, papers, purses and other items upon entering your home.  A vase of fresh flowers sitting atop the table adds an inviting touch.  Hang a decorative mirror above the console to quickly check your appearance.  Make a dramatic impression by suspending a sparkling chandelier overhead.
Sitting Area
A foyer can provide an ideal spot to sit.  Situate a small bench, chair or ottoman against a wall to supply a seat while you're slipping on shoes or making a quick phone call.  Placing a phone in this area is convenient so you can easily answer the telephone on your way in or out of the house.  Large foyers can accommodate more spacious, plusher seating, such as a pair of armchairs with an accent table positioned between them.  This sitting area is convenient if you have a visitor that you would rather not enter further into your home or does not need to do so, like door to door salesmen.  Add a table or floor lamp to provide illumination for reading or writing.  A small settee or comfortable chaise lounge provides alternative seating options.  Situate toss pillows in a variety of shapes, colors and sizes atop a settee or chaise to add color, comfort and texture.
Storage
Use your foyer as a well-designed storage area. For example, construct an attractive built-in bench with storage cabinets and drawers hidden below the seat.  Situate a decorative chest of drawers, armoire, bookcase or dresser against a foyer wall to provide visual interest and additional storage space so that you can store items that you commonly need when leaving your home.  Set a small tray or bowl atop a table for keys, wallets and other small items. You also may place a sofa table adjacent to a wall, tucking large woven storage baskets underneath. Floating shelves attached to the wall supply a storage area without taking up additional floor space.  Storage ottomans provide convenient seating and a hidden place for items.