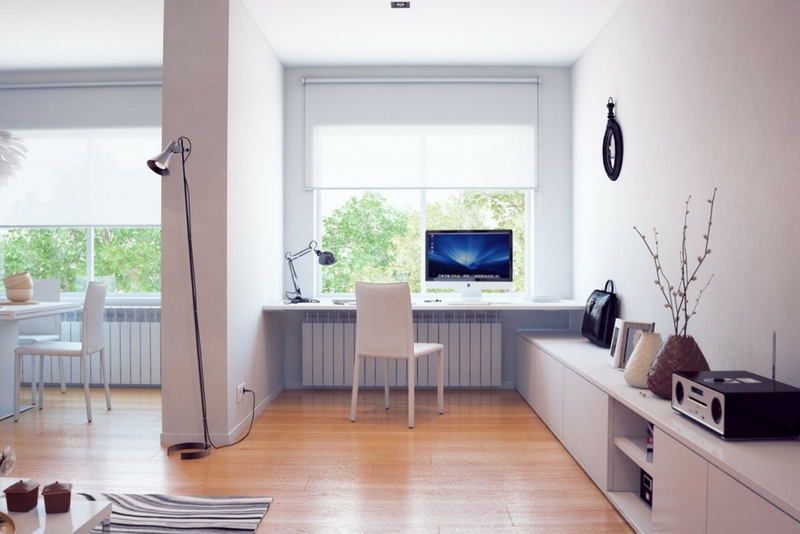 Including a home office in your home provides both personal and professional advantages. For starters, having a home office could greatly increase the value of your property. If you have a small business working from home will save you money that would essentially go towards renting an office space and additional utilities. And it also saves you money on travel. If you conduct your business affairs from home or you find yourself working from home frequently and are thinking of including an office space in your home, here are a few tips you should consider:
1) A home office can take any shape or form, and can come in various sizes. But what you firstly need to take into consideration is the location. In order to work efficiently in your home office you will need to consider the ideal location based on the type of work you do, the layout of the home, the space available, as well as your personal preference. Whether it is a quiet corner in the bedroom or living room, or a separate room altogether, ensure that the area has ample space for all what you need and that you can comfortably work in the chosen area. If you will be meeting with clients on a regular basis having a private space large enough to comfortably accommodate additional seats is best.
2) Available storage can greatly affect your level of productivity in your home office yet it is often overlooked. No matter where your office is located it is essential that you include some form of storage for books and important documents. Include enough shelving and or cupboards as needed in your office space. If the area is not large enough, or does not have ample wall space to take the necessary amount of shelves or cupboards needed, a filing cabinet can also be included. Having storage space in the home office helps you make efficient use of your office space and keeps your desk and surroundings well organized.
3) When it comes to lighting in your home office, maximize the use of natural light. A room that is well lit will keep you feeling awake, productive and creative. While thinking of where your office will be located consider an area in the home near a window, and if possible have your chair positioned facing the window. If you are in a windowless space try having your chair face the door. Having mirrors in your office space will brighten up the room when enough natural light cannot come in.
4) Different colors are thought to affect us in different ways and can alter our mood. For example the color blue is considered to be a very soothing color which aids in concentration. While colors like orange and yellow help foster creativity. When choosing a color for your home office space think light and bright. Darker colors, though they may be stylish, are more inclined to make you feel tired and less productive.
5) The best part about having a home office is that you get to decide what it looks and feels like. The opportunity is yours to add furniture and décor that not only highlights your business but shows who you are as an individual. If you want the overall office space to be traditional, contemporary or modern the decision is yours.
Were the above tips useful? Share this article with family and friends.